Welcome…
…we're glad you stopped by to find out more about our condo located in beautiful Central Oregon. If you haven't stayed with us before, we hope this site will help convince you that our home should be the spot for your next vacation. We think you'll find it the perfect escape from your work-a-day life and the gateway to relaxation and fun in a natural setting. Take a look around and if you agree, we hope you'll take the next step and book your stay with us.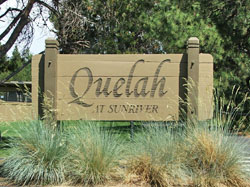 The links on the leftabove will take you to information about the accomodations, rates & fees, how to get here, things to do and see, how to contact us, and more. You can also learn about Sunriver's history, the wildlife that also call Sunriver home, local laws, the climate, and current weather conditions. But no matter what we say, nothing gives you the real picture like...well...a picture! Take the virtual tour of Sunriver and/or the condo and see what you're missing.
We've personally enjoyed this area for many years and we know you will too. Please take advantage of the resources located here and feel free to contact us with any questions you may have about how to make your stay with us the best vacation you've ever had. We hope to hear from you soon.
COVID-19 NOTICE
For your protection, the unit is disinfected between each guest's stay using enhanced protocols. Please remember to follow recommended practices during your stay including regular hand washing and social distancing when outside the unit. 70% of residents in Deschutes County (where Sunriver and Bend are located) have been fully vaccinated and infections in the Sunriver area represent 0.03% of all county Covid-19 cases.
Persons are encouraged to wear an acceptable mask when indoors, using public transportation of any kind, and in outdoor spaces where proper distance cannot be maintained. Before going to a restaurant, it is recommended you call ahead to ensure the establishment is open and seating is available. All guests are encouraged to get vaccinated against Covid-19. For more information, visit the CDC Covid-19 Myths and Facts page.