Climbing Activities
Climbing has become an increasingly common way to get a work-out that doesn't feel like exercise. If you're eager to try a solo activity that is safe, easy to pick up, doesn't require a lot of equipment, and requires effort and concentration without being as punishing as other sports, try bouldering at a local facility. If you want a more traditional experience, consider one of the guided climbs available. Top-rope climbs suitable for the neophyte as well as the experienced are available.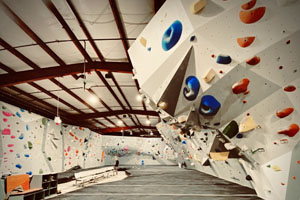 Bouldering
Bend Rock Gym
1182 SE Centennial Ct., Bend (map)
541-388-6764
Comprised of three buildings, the 13,000 sq. ft. North Gym is the main entry point and contains 50 ft. walls, lead, top rope, and autobelay routes, and artificial cracks. The 11,000 sq. ft. West Gym contains 15 ft. walls, boulder problems, free weights, campus board, moon and tension boards, 40 ft. spray wall, and hang board station (requires punch card for access). The 7,000 sq. ft. South Gym is dedicated to youth programs and contains 35 ft. walls, autobelays, boulder problems, and campus board.
"Come and see all that BRG has to offer. With a punch pass, you will have access to three gyms, state of the art climbing, training, yoga, and multiple fitness centers." —Bend Rock Gym
---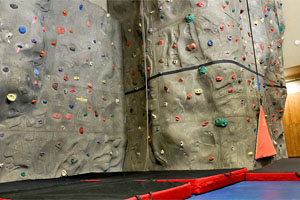 Bouldering
Sunriver Fitness & Aquatics
18135 Cottonwood Rd., Sunriver (map)
541-593-4427
Though its bouldering venue is notably smaller than other facilities, Sunriver Fitness and Aquatics is close by (reachable via a short walk or bike ride) and quite affordable. Though it may not boast walls that have as many square feet as its larger cousins, it still offers a variety of fun handholds and various routes. Climbing shoes and equipment are available.
" Adults and youths are welcome to rock climb and boulder in the gym anytime during our hours of operation." —Sunriver Fitness & Aquatics
---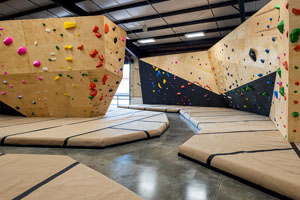 Bouldering
The Circuit Gym
63051 NE Corporate Pl., Bend (map)
541-797-6676
Offers over 20,000 sq. ft. of climbing space. If you don't own climbing gear, you can rent shoes and chalk on location. Barefoot climbing is not allowed. Wall heights range from 8 to 17 feet with terrain suitable to various skill levels. Many boulders have top-out terrain. The gym also features a full training area with a Tension Board and MoonBoard, a dedicated kids area, and yoga rooms. A free 60-minute bouldering introduction class is included in the cost of your punch pass or day pass.
"Our Bend gym is our biggest location yet. It is home to a full range of terrain and over 200 routes for climbers of all abilities. New routes are set every Thursday." —The Circuit Gym
---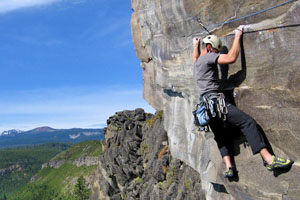 Climbs (Guided)
Chockstone Climbing
Smith Rock State Park, Terrebonne (map)
541-318-7170
Provides AMGA accredited guide service at Smith Rock including full- and half-day tours designed to your specific requirements or developed by a guide taking into account your climbing abilities, goals, and desires. Whether having fun, learning and developing new skills, maximizing the number of climbs, or trying more difficult routes, you decide how to experience Smith Rock's single or multi-pitch routes such as the classic cracks in the Gorge or the multi-pitch routes on the iconic Monkey Face.
"We offer private guided climbing day trips for everyone. From experienced climbers wanting to push their limits to first time climbers wanting to learn." —Chockstone Climbing
---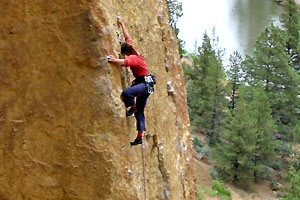 Climbs (Guided)
Smith Rock Climbing Guides
Smith Rock State Park, Terrebonne (map)
541-788-6225
Offers a variety of half- to full-day climbs for various skill levels from first-timer to experienced including the Monkey Face, Red Wall, Spiderman, Smith Rock Group, Morning Glory Wall, a sport climbing tour, a crack climbing tour, and an all-around tour. Instruction classes in the basics, lead climbing, traditional climbing, multi-pitch climbing, aid climbing, and self-rescue are also available.
"We invite you to visit us at Smith Rock State Park in the high desert of central Oregon. With the amazing variety of beginner through advanced terrain ranging from 40 to 400 feet, there's something for everyone. No experience is required." —Smith Rock Climbing Guides